Roller Cover Selection Hints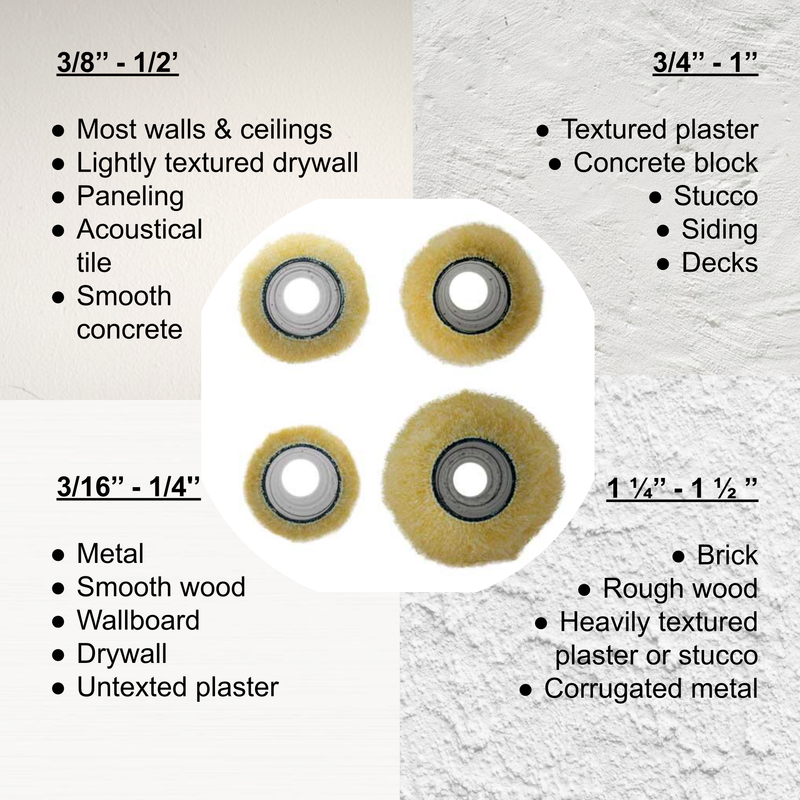 What Roller Cover Should I Use?
Most painting projects require the use of a Roller Cover to apply paint to the substrate. With so many different options, knowing a few basic points will ease your selection process.
The standard roller cover is 9" wide. We also carry mini-rollers that are 4" and 6.5" as well as 14" and 18" wide covers for large jobs.
Roller Nap
Simply put, Roller Nap refers to how thick is the fabric material. The shorter the nap, the smoother the finish will be. However, the cover will hold less material requiring more "dips" into a roller tray to refill the cover.
Covers with less than a 3/8" nap are typically only used for enamels.
Most consumers prefer to use a 3/8" to 1/2" nap cover for walls and ceilings. These naps produce very little "orange peel" texture.
Most professional painters will use a 3/4"nap cover because it holds more paint allowing them to work the wall longer between reloading.
Rough surfaces will require 1" and 1-1/4" nap covers to fully apply paint to the surface. While these covers will leave more texture profile, it is not as noticeable on a rough surface. However, if these are used on smooth surfaces, you will notice this texture.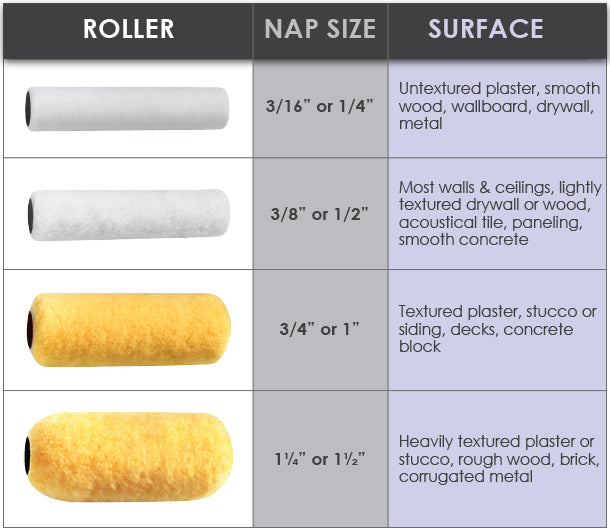 What Paint is being applied?
For flat and eggshell sheen paints, a knit cover is the most common. Knit covers are good at picking up large amounts of paint and releasing it on the surface. The most popular type of cover used by painting contractors.
Another option are woven covers which will have slightly less pick up and release but will produce a smoother finish and are more shed-resistant. This is our staff recommendation for homeowners using flat, matte, eggshell, or satin finish paint.
Microfiber covers are produce a very fine almost spray like finish. These are typically used for both latex and oil base enamels and clear finishes.
Lambswool and Lambskin covers are typically used by some painting contractors because of their ability to "load" and carry a large amount of paint. Downside is they can also have tendency to leave more texture on the surface.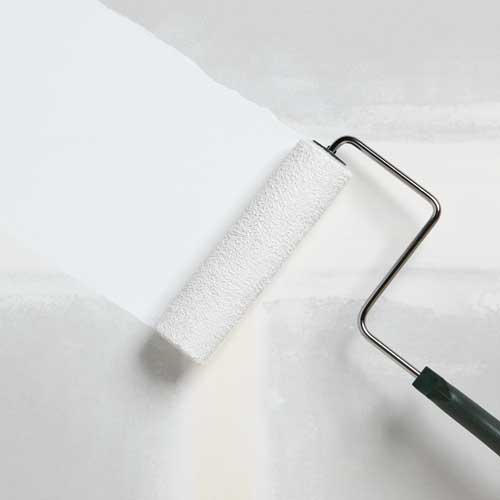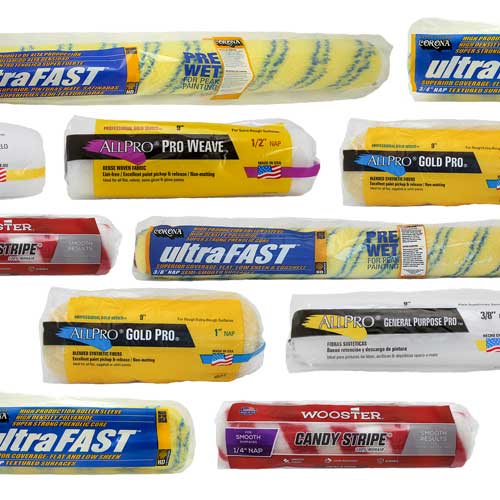 Quality
Like many things, you get what you pay for in a roller cover. The higher quality covers will last a lot longer, provide better pick up and release of the paint, and save you time applying paint.
We don't carry any of the truly cheap covers because they will produce poor results even when using a quality paint. We do offer a range of price competitive covers to fill our customers' needs.
Choosing a selection results in a full page refresh.
Press the space key then arrow keys to make a selection.